PERMAS Web Conference 2022 (29 June - 7 July 2022)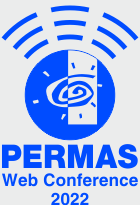 We cordially invite you to our web conference series where users and developers together present a varied program at four dates, inviting you to a vital exchange. The current version of the program is visible here: Program Web Conference. It is still subject to change.
Starting from June 29th, we will discuss on Wednesdays and Thursdays a dedicated topic at 9:30 am (CEST) for about 1.5 hours and look forward to your participation as well as a lively exchange with you.
Participation is free of charge. We kindly ask you to register informally by email to:
uc2022@intes.de
- for all dates in a single email or individually for each date. Registration closes on Monday before the respective web conference date. You will then receive an invitation to the current date with a link to the conference. The number of participants is limited for technical reasons. We will use the order of registrations. In order to take part in the discussion, you need a microphone - in addition there will be a chat option.
Here is a brief overview of the topics on each day (complete program):
Wednesday, June 29, 2022, 9:30 AM (CEST): PERMAS V19
Thursday, June 30, 2022, 9:30 AM (CEST): Nonlinear Analyses
Wednesday, July 6, 2022, 9:30 AM (CEST): Dynamics
Thursday, Jule 7, 2022, 9:30 AM (CEST): PERMAS V19